This from the hope not hate blog
D-Day – Tuesday 2 June
Nick Lowles Sunday, 24 May 2009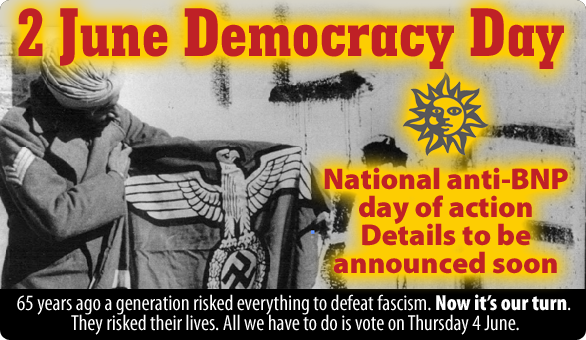 The HOPE not hate campaign is planning a national Day of Action against the BNP on Tuesday 2 June...


...it comes almost 65 years to the day when hundreds of thousands of British, American and Commonwealth troops set sail for France in the final push against Hitler's Nazis. Now it is our turn. They risked their lives to rid the continent of fascism. Today, we just have to get people to vote...

... give one hour to ensure we defeat the BNP in the European elections.
full article at Hope not hate campaign blog
On June 4th
be sure to vote
but
DON'T VOTE
BNP

DENY
them your
VOTE

DENY
them a
VOICE

Say NO
to the BNP
on June 4th 2009
PEACE
Crispy
Please leave a comment - Anything will do
The best communications are often,
THREE WORDS OR LESS
OR ONE OR MORE FINGERS!